In the dynamic world of IoT, the race to digital transformation is on. Leading this charge is Fleximodo, transforming the traditional parking experience into a seamless digital journey.
Fleximodo Demo-Kits: Touch the Future of Digital Parking
Dive into the world of digital parking with our specially curated demo-kits. Packed with 5 state-of-the-art IoT sensors and an integrated card—all for just €1500—these kits are your gateway to the future. And with our express delivery, you can embark on this digital journey within a week.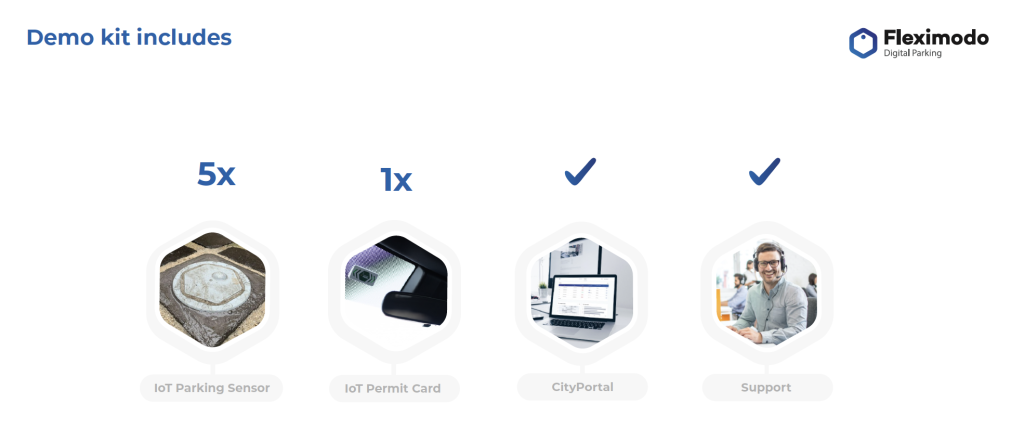 This demo kit will help you understand the functionalities of our IoT parking sensors, evaluate the performance and you will get the access to CityPortal to monitor the technical parameters.
Beyond Hardware: Fleximodo's Dedicated Software Support
Our commitment to revolutionizing parking doesn't end with hardware. Fleximodo's in-house software solutions ensure that your transition to a digital parking experience is smooth and hassle-free. And if bumps arise? Our dedicated support team is always on standby, ensuring you get the most out of our IoT solutions.
Setting the Gold Standard in IoT Delivery
In the competitive realm of IoT, timely delivery often becomes a challenge. However, with Fleximodo, you're always a step ahead. Thanks to our strategic in-house assembly of chipsets, we guarantee swift delivery times. For smaller projects, expect your solution within a week. For more robust, large-scale endeavors, we commit to delivering within a quarter. This speed underscores our dedication to efficiency and customer satisfaction.
The Fleximodo Promise
In a world racing towards digital transformation, Fleximodo stands as a beacon for those seeking a seamless parking experience. With our in-house made IoT hardware and software solutions, we're not just promising change; we're delivering it.
Discover more about how Fleximodo is revolutionizing industries with our IoT solutions.